Because there are so many charts to look at there are four Blog Entries to this story
The Astrology Pt 1 Natal Chart
The Astrology Pt 2 Savile and His Parents
The Astrology Pt 3 Death & Exposure
The Astrology Pt 4 Savile, The BBC and The UK
Jimmy Savile Death (29 Oct 2011, 12:10, BST -1:00 Leeds, 53°N50', 001°W35')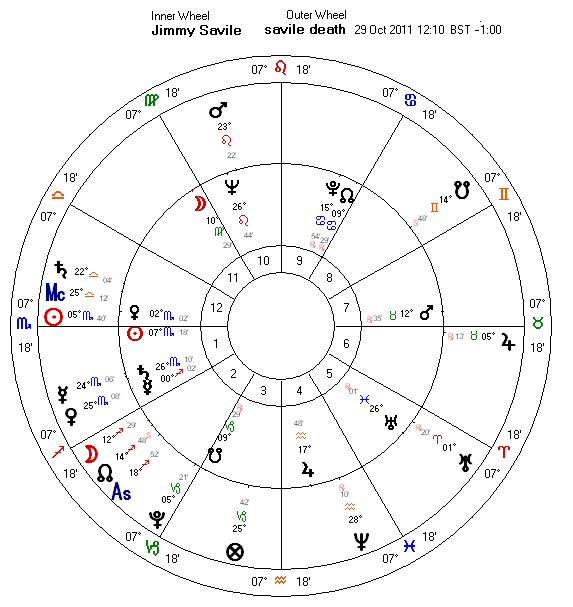 Savile died on 29th October at his home in Leeds. What jumps out at me here are the transitng Mercury/Venus conjunction, squaring transiting Mars, he died not long after having had pneumonia, Mercury is connected with breathing and the lungs, Mars with inflammation. So there is the cause of death.
But note that same transiting aspect's contact with natal Saturn/Mercury. Mercury/Venus is conjunct and Mars is square. Savile's death was followed by glowing tributes to the man and his charity work. We've some verbal idolisation here that well befits Venus/Mercury. Also at the time T Neptune opp natal Neptune.Neptune casting a glamour and idealisation behind which the truth was still hidden.
Exposure
That truth was to emerge at 23:10 on the 3rd Oct when ITV broadcast a program called Exposure where allegations of long running abuse by Jimmy Savile were made.
Now look at where the transiting ascendant was at that moment in time – exactly conjunct Pluto! Talk about exposing secrets!! (Ascendant brings things to the light of day)
Note also that transiting Mars/North node is conjunct Savile's Mercury/Saturn. Mars is digging under that natal wall of silence. Also T Nodal axis is square Neptune bringing to light his constant lies and deception.
Previous: Pt 2 Savile and His Parents
Next: Pt 4 Savile, The BBC and the UK