Because there are so many charts to look at there are four Blog Entries to this story
The Astrology Pt 1 Natal Chart
The Astrology Pt 2 Savile and His Parents
The Astrology Pt 3 Death & Exposure
The Astrology Pt 4 Savile, The BBC and The UK
Savile and His Mother
Savile doted on his mother (whom he described as very naïve and has said that he wasn't her favourite child) In interviews and memoirs he has talked of a tough childhood with little money and having to wear hand-me-down clothes. He proudly boasts that he lived with his mother all his life.
When she died Savile sequestered himself with her body for five days, which he subsequently claimed were the "best five days of my life … She looked marvellous. She belonged to me. It's wonderful, is death.
In a subsequent interview some years later he is reported to have said that he made the story up and the real reason is that the ground was too frozen for a burial. This latter is another lie, October 1972 weather was average for that year with average temperature being 10.6c (
weather database here
)
Savile also also kept some of her clothes and had them dry cleaned yearly. This is almost obsessive mother love and well befits his Pluto Node conjunction.
Savile and his Mother
(Agnes Monica Kelly 1 November 1886 Consett, Durham)
Agnes Savile with Jimmy Savile


With her birthday being just a day after his there are naturally numerous connections between their personal planets but look at Savile's Pluto node contact with his mother's moon! (Moon 7-20 deg on the day of her birth so will be in orb, we just don't know how close). This underlines the intense /obsessive relationship between Savile and his mother – it also confirms to me that there are family secrets here. Also note that Agnes has a Pluto/Neptune conjunction opposite mercury. The latter sitting on Jimmy Savile's Mercury/Saturn conjunction. I would suggest that this was a relationship that was not only filled with lies, evasions and secrets but was controlling and subversive.
Savile and His Father
Meanwhile little has been written about Savile's father or of his relationship with his father. All we know was that he was a bookmaker's clerk and insurance agent
Savile and his Father (Vincent Joseph Marie Savile 5 March 1886 Salford, England)
Vincent Savile with Jimmy Savile
Both charts drawn for noon, note moon opposite moon across both charts. Savile senior also has Mars/Node conjunction close by, this Sextiles Jimmy Saviles Pluto/Node.Also Savile senior's Pluto is opposite Jimmy Savile's Mercury/Saturn conjunction. I'll leave you to draw your own conclusions on these contacts but I would suggest that Savile Senior tried to keep a tight reign on Savile Junior, using abusive violence to do so.
Savile and His Parents Deaths
Savile and his Mothers death ( 9 Oct 1972, 12:00, BST -1:00 Filey 54°N12', 000°W17' )
Jimmy Savile - transits an day of mother's death


This is the comparison chart for the day Savile's mother died, note the moon is on Savile's sun, a fleeting transit but brings the archetypal mother image directly into his consciousness. Also transiting Sun is square his Pluto/node and transiting Neptune is just past that Merc/Sat conjunction.
What stands out to me here is the transiting Mars/Pluto conjunction, it sextiles Saviles Saturn/Mercury (wide in the case of Saturn) but I wouldn't be at all surprised if that aspected one of his (unknown) angles. (A Libra MC of between 3 and 5 degrees would give Sag rising at about 3-4 degrees)
Savile and his Father's Death (18 Apr 1953, 12:00, Leeds 53°N50', 001°W35')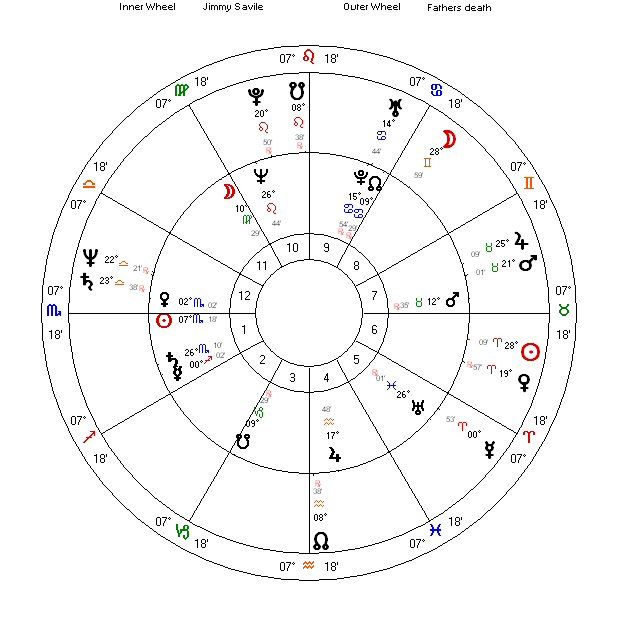 Jimmy Savile transits on day father died
Note transiting Uranus on natal Pluto/Node, did Savile feel a sense of freedom when his father died leaving him free to have so control over his mother? Also on the day there was an approaching Mars/Jupiter conjunction which was opposite Savile's Saturn/Mercury
Previous: Pt 1 Natal Chart
Next: Pt 3 Death & Exposure
---
Parents Chart data came from the following sources
My search for information on his parents lead me to here
http://www.leodis.net/display.aspx?resou...OMMENT=YES
Which in turn lead me to here
https://familysearch.org/pal:/MM9.2.1/39MB-62T