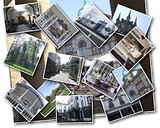 With Saturn treading heavily as it squared my Gemini planets during the last few weeks I decided it was time for a spring break. I Googled and discovered that  Royal Tunbridge Wells in Kent was one of the top 10 UK holiday destinations. Having driven through the beautiful Kent countryside last year I decided that it would be nice to spend a couple of days there. Especially as I have an internet friend  who lives not so far away from Tunbridge Wells and who would be able to drive over and meet up with me and hubby. (Poor hubby is used to me dragging him around the country to meet my internet friends, but he agrees that everyone we have met so far have been lovely people. So don't believe all the scare stories you read about the perils of the people you meet on the net.) 
The desicion having been made and a hotel booked for a couple of nights away I Googled a bit more, and was delighted to find that we could also bed & breakfast on a cruiser moored in a marina in Rochester. Now I'm not usually a boat person but Neptune has been transiting my ascendant so it immediately  appealed. We decided to extend our break by an extra night so we could experience this novel idea for a B&B. (Note to the astrologers reading this, as you read on just take a look at how much the Neptune symbolism played itself out during this break.)
Leading up to the break the weather didn't look very promising, but the morning of our getaway dawned bright and sunny. We made quick progress to out hotel in Tunbridge Wells, and were delighted to find that it was quietly situated yet within minutes of the town center. We booked in and went off to find a coffee shop and to meet up with my friend who gave us a tour of some of the interesting architecture and sites of the town.  (I couldn't help noticing that there seemed to be a dentist's surgery on every street, I remarked to my friend that Tunbridge Wells must have a Capricorn influence. When I got home nad checked, sure enough it has a Capricorn sun.) A pleasant hour or so was also spent sitting drinking tea, chatting and watching the world go by before my friend had to  return home.  The weather was so warm and sunny that  hubby and I chose to partake of a picnic lunch  in  Claverley  Park after which we wandered down to
The Pantiles
, which is full of delightful shops, bars and bistros.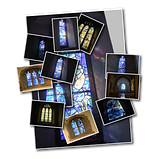 Our second day dawned bright and clear so we took ourselves off to Tudeley, my friend had suggested we visit the church there and check out the stained glass windows. They are designed by Mark Chagall and are simply stunning! Neither words nor pictures can do them justice. An added bonus was that we found a labyrinth in the church grounds, which we duly walked. From there we drove through the stunning Kent countryside to get to Hever Castle. I'm not a great history buff so the castle didn't interest me as much as the beautiful grounds and lake.  The fun part  of the day was the water maze, I should have guessed that with Neptune transiting my ascendant I would be the one to get wet! Our walk around the lake was followed by lunch eaten in a nearby pub's garden.
The following day we headed of to
The Sovereign B&B
at Rochester. If you want a break with a difference this is certainly it! We were welcomed warmly by Sue and Bob, the boat's proprietors, who quickly produced a cup of coffee for the weary travellers. We were shown to our cabin, beautifully decorated in shades of blue. We also had the honour of being given a tour around the cruiser, all the rooms really are lovely and lovingly decorated. Having refreshed ourselves we were given directions by Sue as to how to reach the High Street. The walk was about a mile long and was beautiful. We walked along the Esplanade, with the river always in sight, glittering in the sunshine.  The High Street itself is full of antique shops, second hand book shops, charity shops and individual traders. It was a delight not to see the 'usual' shops that are found on every other high street.
Having explored said shops, the castle, and the cathedral, we headed back to the Sovereign where we sat on the deck sunning ourselves in the late afternoon sun. As it got a bit chillier we were invited into Sue & Bob's lounge area, a lovely room with windows on all 3 sides giving stunning views of the river and its surroundings. Again a cup of coffee was produced and I couldn't help but think it was as if we were welcome guests in someone's home rather than paying B&B guests. We slept soundly in the comfort of our cabin that night. The next morning the tide was out, well with Neptune and Saturn playing tricks with me chart there had to be some mud didn't there? There was also a delicious breakfast of gigantic proportions! We really didn't want to end our holiday but the real world in the shape of Saturn was calling, so we said a farewell and headed off home, feeling decidely relaxed and stress free.